Generations of philosophers have been fascinated what has been termed the "Mary problem". In essence, Mary is the worlds foremost expert on color vision and knows everything that there is to know about it. The catch is that she is (depending on the version) either color-blind or has never experienced color before. The question is (depending on the version) whether she is lacking something or whether she would gain new experiences/knowledge if she were to experience color. Supposedly, this is to show us interesting things about physicalism and qualia.
In reality, it only shows us how philosophy is fundamentally limited. The philosophical apperception of the world (as well as interactions among philosophers) is entirely language-based. Needless to say, this is an extremely impoverished way to conceive of reality. Language has all kinds of strange properties, including being inherently categorical. Its neural basis is poorly understood but known to be rather extraneous – most animals don't have it, and even in the higher primates, most brain regions don't involve language processing.
Yet, all of Mary's knowledge is language-based. So yes, if she were to see a color, the part of her visual cortex that processes spectral information (assuming that part of her cortex was intact) would be activated and she would experience the corresponding color, for reasons that are still not well known.
But the heart of the matter – and the inherent shortcomings of an understanding that is entirely language based (invisible to philosophers, as this is something shared by all of philosophy) can be illustrated by a new problem. So let's add some color to the Mary problem. Here is the Mary problem reimagined: I call this the "Brian problem":
Brian is the worlds foremost expert on all things sex. He has read every single paper that was ever published in sexology and he also has a keen grasp on the biological and physiological literature. Yet, he has never had sex. Now, Brian has a chance to have sex – would this give him an opportunity to learn anything that he doesn't already know or have an experience that he didn't already have? If so, why?
Put in this way, a sample of 100 undergrads were quite clear in their interpretation: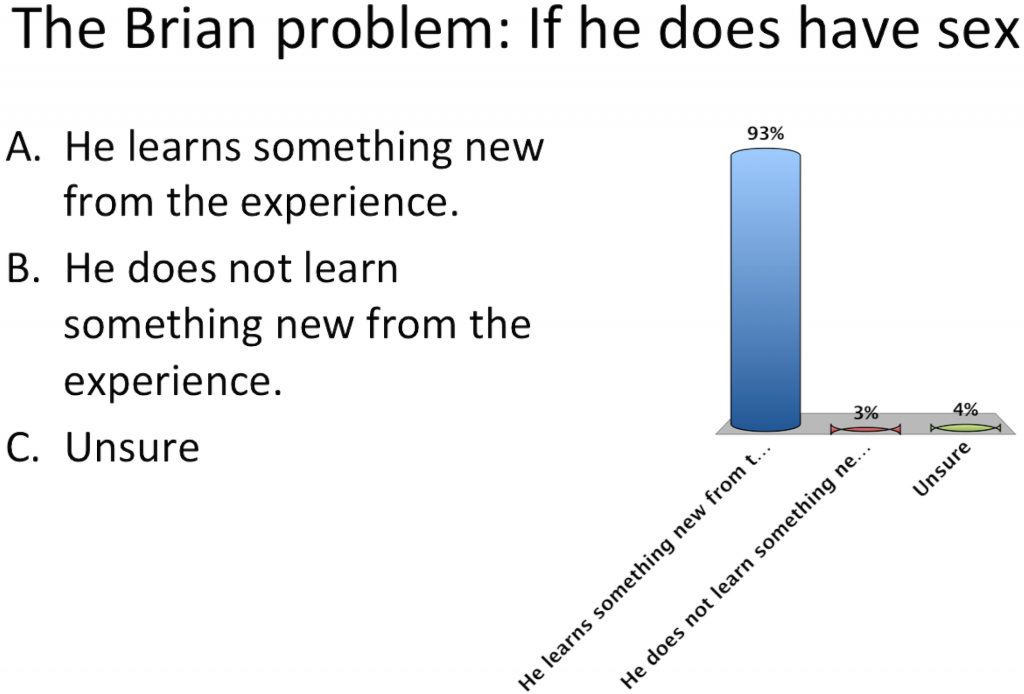 This nicely illustrates the fundamental problem with language to assess the state of reality: Language has face validity to other people, because it is our mode of thinking, and probably evolved for reasons of social coordination. So arguments might seem compelling (particularly to unrepresentative subcommunities with a shared culture) that do not correspond to an apt description of reality in any other way.
If this is not clear yet: Imagine there being a rat who has never experienced anger but has read every paper on anger. Then you stimulate the ventromedial hypothalamus of this rat with optogenetic methods. Does the rat experience something new? If so, why?
There are really infinite variations of this. Say – for instance – Stephen has read every paper on LSD. He has an intricate understanding of how the drug works. He knows everything there is to know about serotonin receptors and their interactions with ligands. He even understands mTOR, GCaMP and knows everything there is to know about phosphorylation as well as methylation (although that might not be directly relevant). Yet, he has never taken LSD. Now, Stephen is about to take some LSD. Will he experience something that he has not experienced before? Will he learn something? Is this really that hard to understand if one has a lot of prior exposure to philosophical thought?